BEDROOM PLAN
Bedding-
Xhilaration® Tie Dye 

Comforter
$64.99-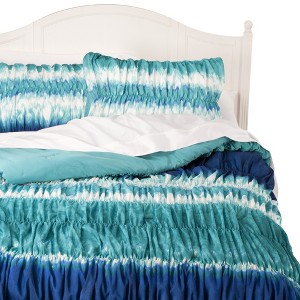 Tailored 14″ Bedskirt – White
$ 19.99-
White Fluffy White Throw Pillow-Teen
19.99
Use Navy Blue Pillows I already have and white sheets.
Eclipse Bailey Thermaback Window Panel
(2)
15.99
Poster Frames (4)
Caboodles Makeup Clear Organizer Tray- 10.99
Organizer Cubes for Cubes
Navy, Turquoise, White, Grey
Paint-
White One quart for trimming of room
White Big thing of paint..Pure White
Light Turquise Pint\Quart For Closets and Door
Closet Organizing things from TjMaxx Or Marshalls
Picture Frames with Multiple pic slots for pic of friends and family
Trashcan and Laundry Hamper
Decorate Light and plug in platers with turquise sparkles
RULES FOR NEW ROOM!
NO NAIL POLISH
NO FOOD BESIDES WATER
NO MARKERS UNLESS YOU ARE ON DESK
NO NOTHING THAT CAN STAIN ON THE BED
NO NOTHING THAT CAN STAIN ON THE FLOOR
NO MOVING AROUND FURNITURE OR HANGING THINGS ON WALLS
NO TAKING THINGS OFF WALLS
PUT EVERYTHING BACK IN ITS PLACE
HAVE A PLACE FOR EVERYTHING
TREAT EVERYTHING WITH RESPECT\CARE
NO SPINNING\TWISTING\ BED POSTS AND KNOBS.
NOTHING THAT CAN DAMAGE FURNITURE (MAIN THING- NAIL POLISH REMOVER
VACUUM AT LEAST THREE TIMES A WEEK
SHAMPOO EVERY 2 WEEKS
DONT CHANGE ANYTHING WITHOUT MOMS PERMISSION
BE CAREFUL WITH CANDLES AND HEAT TOOLS
LASTELY, KEEP THINGS ORGANIZED AND CLEAN!!!!!!!!!!!!!!!!!!!!!!!!
THIS MESSAGE IS APPROVED MY: MARIAH MANN AND PHYLLIS MANN AS WELL. THANKS.